Next-Gen is a unique smart learning and career development platform that connects businesses, students, and educators to improve educational equity. It is now available in six languages, with many more to come, so that everyone from all over the world can use it. 
Partnering with Concordium, they are building tomorrow's digital platform based on blockchain technology that protects users' privacy and is the next step in stopping the abuse of personal data.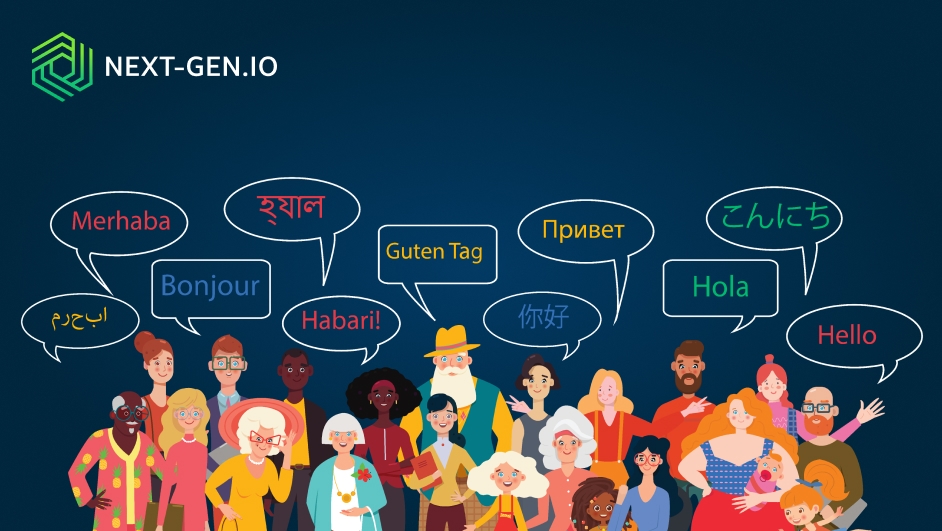 The Next-Gen is based on a business model that makes use of educational grants from members of the platform to fund online students who don't have the means to pay for education. By removing the financial and geographical obstacles, students across the globe have a greater opportunity to improve their skills and knowledge, specifically within the tech industry. 
Currently, universities are not always teaching new technologies and ideas at the same pace as the real world. Many courses teach skills that are often outdated by the time the students enter the job market. Next-Gen fills these gaps by offering short courses that help people to choose the job they want and remove many limitations.
When it comes to language barriers, some nations are instantly disadvantaged because they don't automatically speak a widely-used language. With Next-Gen, having six languages (and growing) means tech education in students' native language democratizes the tech industry and empowers people to join the industry. Education in the learners' native language also allows teachers to fit their teaching methods and problem-solving to learners' specific needs.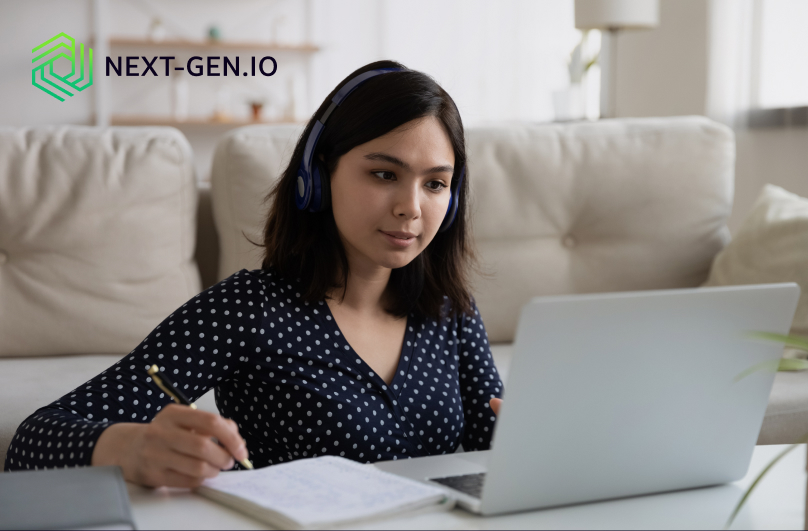 Next-Gen makes learning possible for people around the world
1. Now you're speaking my language
Education is one of the most important drivers for the development of people and communities. Next-Gen is a great partner in growing and developing local communities by providing the vital service of education that allows young people to fulfill their potential.
Next-Gen's goal of reaching students around the world requires the platform to be available in students' native language to have the greatest learning impact. As a result, the website is already available in six languages: Croatian, Danish, English, Spanish, Ukrainian, and Vietnamese, which will also be built into the platform and will be accessible to over 1 billion people in their native language [1]. Next-Gen has already planned to add more languages to achieve global coverage and provide equal opportunities for learners everywhere.
Next-Gen is giving communities a way into the tech industry, which is not only a benefit for people's personal development but will also expand the tech industry's creative capacity from new corners of the world and fuel the industry's progress.
Next-Gen becomes a space for transferring knowledge and tools, which will allow learners to formulate and make their ideas into reality. Native language learning also allows the students to bring their local communities with them into the next step of digital evolution and help spread new digital solutions into their local communities.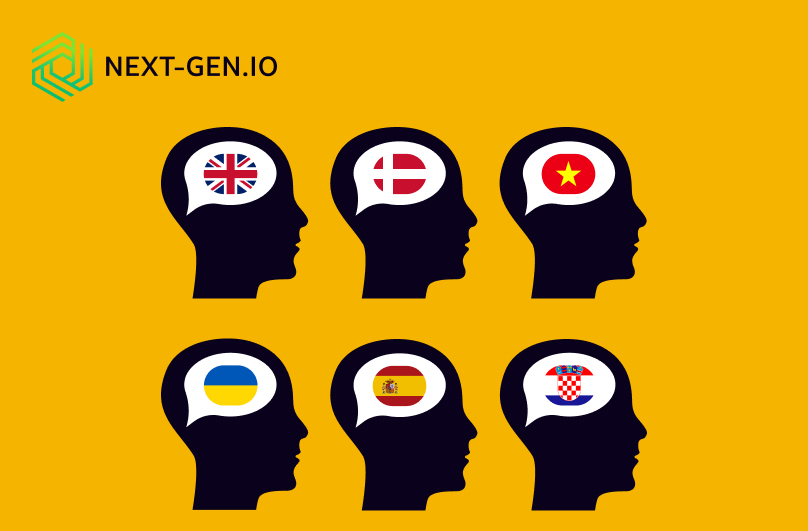 Next-Gen's language accessibility covers 1 billion native speakers
2. How to build trust in the educational ecosystem
As new technological innovations create a quickly changing business environment, so are job requirements similarly evolving at a high pace. Next-Gen's educational platform makes sure that learners are qualified to meet new challenges head-on. The inclusion of all parties in the platform's ecosystem means the courses will continuously evolve parallel to real-world demands.
Next-Gen reduces the distance between the different parties involved within the educational sector. It ensures that information flows between all parties which helps instructors to make tailor-made courses to fit learners' and employers' needs so that students obtain in-demand qualifications, are easily employable, and are thus empowered to build the life they want.
Next-Gen increases global educational equity by making courses accessible for traditionally underserved communities and groups. The cost will no longer be an issue for students due to funding from educational grants, accessibility is greatly expanded by making courses available for remote learners.
Through its partnership with Concordium and the utilization of its exceptional blockchain technology, Next-Gen protects the users' privacy and ensures accountability. In a world increasingly aware of the power and abuse possible in data collection, Concordium's technological innovations allow Next-Gen to become a frontrunner in e-learning following its ethical code of putting privacy first and protecting users' data through a decentralized structure based on blockchain technology [2]. Where privacy is key, Next-Gen is already present.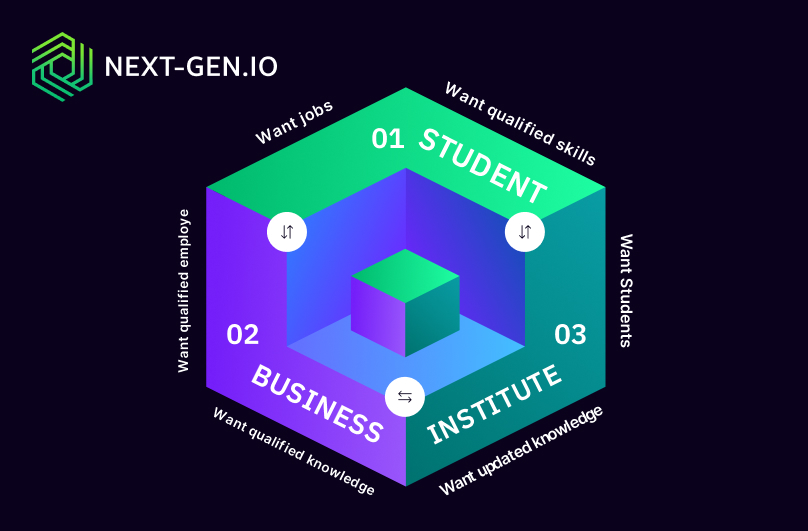 How the Next-Gen platform connects students, businesses & educational institutes
3. About Concordium
Concordium is a non-profit foundation with a privacy focus and open-source development at the heart of its ambitions. Concordium is rebuilding the public's trust in the tech industry by offering a permissionless layer 1 blockchain that protects users' rights to privacy and maintains accountability of digital interactions through its ID layer [2].
Earlier models of blockchain technology have faced the dilemma of whether to provide full anonymity or demand accountability. Concordium's ID layer has overcome the dilemma faced in blockchain by providing transactional anonymity for users but also incorporating third-party validators, who will cooperate with regulators regarding suspicious transactions. Concordium is partnering with tech developers to build new digital spaces and platforms based on their layer-1 with ID to advance progress in digital services.
4. About Next-Gen
Next-Gen is the next smart learning platform that will broaden access to high-quality education and training to further the careers and development of students and candidates. By connecting businesses, students, and educators, Next-Gen ensures there is a clear link between the content of its course and industry needs.
Next-Gen is building tomorrow's educational metaverse platform and is a pioneer in smart learning technology. The Proof of Work, Education, and Qualification models will allow students and businesses to find the best possible match and provide trustworthy records of qualifications and professional careers, designed to comply with regulatory oversight [3].
---
Next-Gen is partnering up with Concordium to make quality education equally accessible worldwide and empower students to find their way in life. Next-Gen's smart learning and career development platform will offer educational opportunities to students across the world. Are you ready to step into the EduVerse?